Nieuws
The Large Glass Department Experimenting with Glass Recipes included in the Sybren Valkema Archive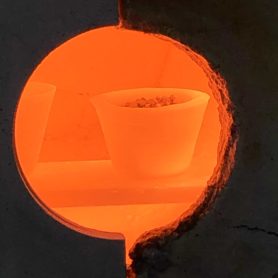 In collaboration with the Sybren Valkema Archive, the Large Glass Department of the Gerrit Rietveld Academie began a project to apply the vast collection of records in the archive to a studio setting where the collated technical knowledge could become accessible and practically applied. The first delve into the archive consulted Rezeptbuch für die praktische Glasschmelze and a discussion between Dominick Labino and Harvey Littleton on safety around the hot glass studio when working with hazardous materials and how to adapt recipes. Beginning with metal oxides, each compound was individually tested with the glass cullet. From the intensity observed in the melted colour, the amounts called for in the original selected colour recipe will then be adjusted to attain the desired shade.
Sam Chua about her experience:
Beginning the project with mixing colours was very interesting for me and it continues to intrigue because the research just opens the archive up even more. You can start off looking into old recipes with a bunch of poisonous chemical elements, and while adapting and replacing them with safer alternatives learn about those options and how they change the outcomes of the colour. In the process a lot of adjustments had to be made to prepare the studio for the melting tests, with the kind of tools we would use, the moulds for colours, making our own crucibles etc., and even considering the possibility of building our own small test kiln, the project keeps growing and I continue to learn things I never expected to. 
Supervisor: Prof. Sven Dupré
Instructor: Anna Carlgren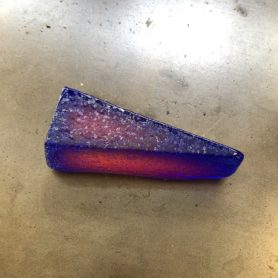 First test at the Large Glass Department, Gerrit Rietveld Academy.